BrailleBox V5
Cut sheet fed production Braille embosser at a truly affordable price.
Wi-Fi compatible
Print from portable devices
Supports Index-direct-Braille (idB)
Emboss hassle-free braille books
Multi-lingual voice speech feedback
Automated (open & close) Braille tray
<30% faster embossing speed than V4
Web interface for embosser setup & support
Complete embosser control via the control panel
USB host port (emboss directly from USB memory)
A high speed sheet-fed production embosser
BrailleBox is a Braille printer for high volumes of braille production. Create hassle-free braille books instantly with this cut sheet fed embosser.
A landmark in production braille embossers.
Print hassle-free braille books
Print braille books with BrailleBox using A3 (or 11x17 inch) paper in booklet format. The pages are printed and pile in page order, fold along the centered braille line and you have a ready braille book.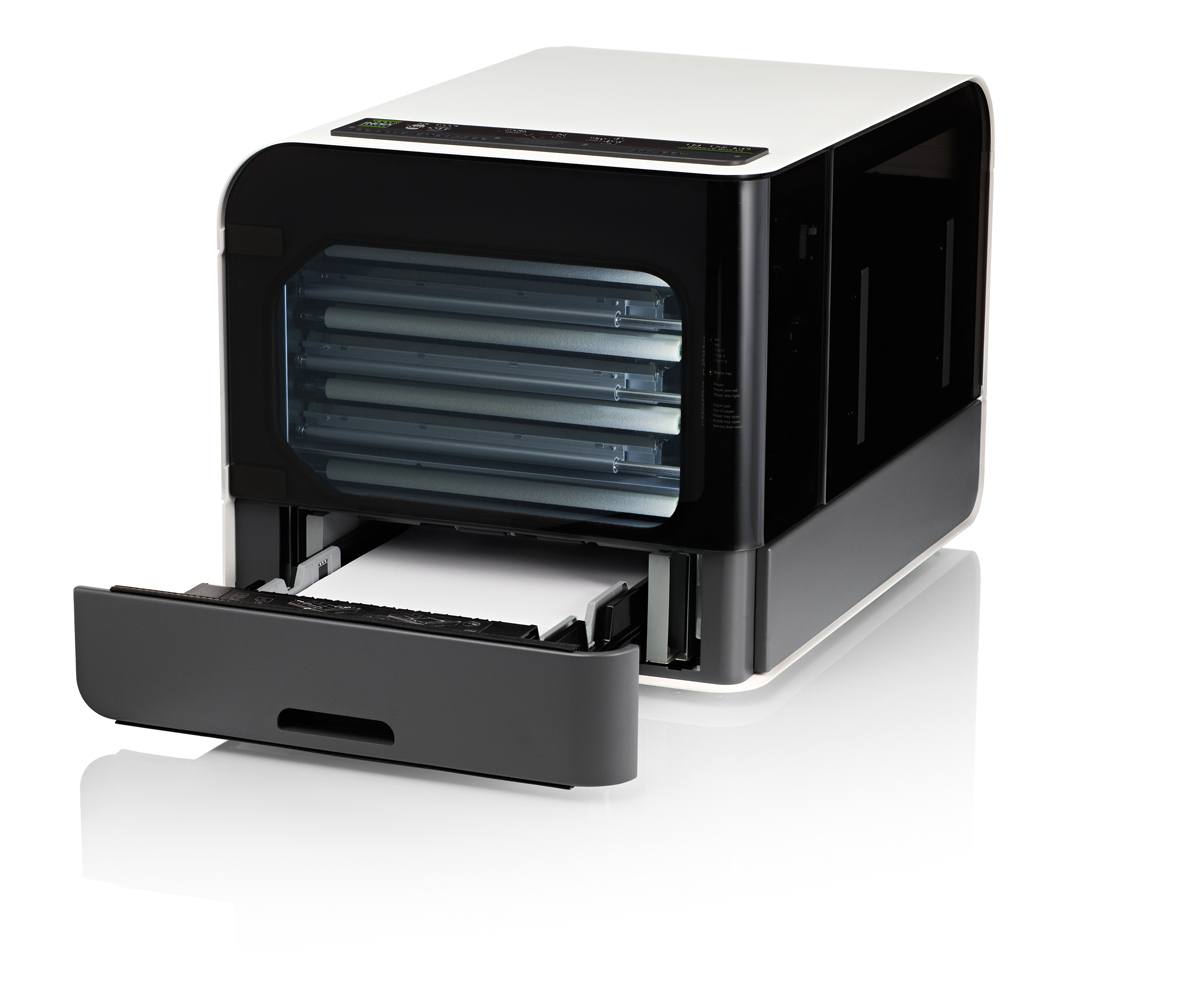 Features:
Braille

Embossing speed cps

300 cps

Single-sided

Double-sided

Vertical printing (booklet)

Adjustable line spacing

Braille font

2.5 mm

Tactile resolution

50 dpi

Forming method

Three embossing heads with 13 hammers in each

Paper

Tractor-fed

-

Cut sheet fed

Paper roll

-

Sheet feeder size

400 pages

Paper weight

120-180 g/m2 (80-110 lbs)

Paper width

A3 297x410 mm, Folio 11x17 inch

Paper length

11x11x5 inch, B4 250x353 mm

Adjustable paper size

-

Fixed paper size

Measurements

Height

56 cm (22.05 in)

Width

72 cm (28.35 in)

Depth

90 cm (35.43 in)

Net volume

362.88 dm3 (12.81 ft3)

Net weight

65.2 kg (143.44 lbs)

Noise level

60 dB(A)

Noise level with acoustic protection

Communication

USB

USB memory stick

Wi-Fi network

Wired network

Bluetooth

Supports mobile devices

Printer driver for Windows

Printer driver for Mac

Printer driver for Linux

Internal web

Free firmware upgrade

Supports idB

Electrical

Voltage

100-240 V AC

Power max

400 W

Power stand by

5 W

Eco power down

1.0 W

Switched power supply