Adaptive Mobility Device (rectangle)
Adaptive Mobility Device (rectangle)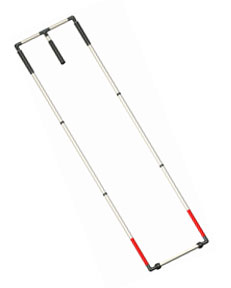 Key Features
1. Light weight fiberglass design.
2. Easily folds into two equal sections for heights from 30" to 34"; and folds into 3 equal sections for heights from 36" to 54".
3. Uses the same composite aluminum joints, finger guards, and double string elastic cord available on AmbuTech's full line of folding canes.
4. Full selection of lengths from 36" to 60" in 2-inch increments (90-150 cm in 5 cm increments)
5. Two models to chose from - one with low profile plastic wheels for use on firm indoor and outdoor surface areas and one with AmbuTech's Rover Wheels for use on any rural or rougher urban surface areas:
Transition Skills Components
1. Double cane grips to give students or clients the tactual familiarity of a cane grip.
2. Stair Extension that allows students or clients to hold the Adaptive Mobility Device in a balanced position while clicking up each step using the same skill patterns needed when ascending stairs using a standard cane.