طابعة برايل إكسبرس 150
Braille Express 150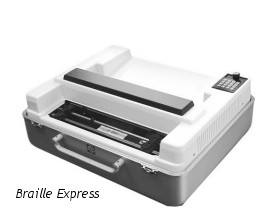 The Braille Express 150, that is built in a durable, transportable case, embosses two-sided, interpoint Braille at a speed of 150 characters per second. The Braille Express 150 has a 500-page memory that can hold your largest Braille jobs. In production, we estimate that a Braille Express 150, used for five hours a day, can produce about 500,000 Braille pages in a year.
Key Features:
1. Regular (12.5 dots per inch) and high-resolution (17 DPI) graphics
2. ET Speaks for automatic speech feedback as you use your Braille Express 150
3. Standard Braille line spacing or one and one-half line spacing
4. 6 or 8-dot Braille
5. Impact adjustment for heavier or lighter paper
6. Multi-Copy up to 99 copies of a document
Specifications:
1. Printing
Speed: (Interpoint) 150 characters per second. (Single Sided) 90 characters per second.
Line Width: 44 characters.
Paper: Continuous tractor feed paper.
Paper Width: Adjustable. 1.5 to 13.25 inches (3.8 to 33.7 cm).
Page Length: Selectable. 3 to 14 inches (7.6 to 35.6 cm).
Paper Weight: Variable.
2. Physical Description
Width: 21.25 inches (53.9 cm).
Depth: 18.00 inches (45.7 cm).
Height: 8.75 inches (22.2 cm).
Weight: 50 pounds (22.7 kg).
Case Style: Aluminum carrying case, with handle.
Sound Level: 80 DBA. Sound level may vary with ambient conditions.
3. Environmental
Temperature: Operating or Storage: 35 F to 100 F (2 C to 37.8 C).
Humidity: Operating or Storage: 10% to 95% noncondensing.
Shock: 3 foot drop (approximately 5G).
4. Electrical
Line Voltage: 105-130 VAC or 220-240 VAC.
Fuse Size (maximum): 105-130 VAC: 250V, 3.5A (slow-blow); 220-240 VAC: 250V, 1.8A (slow-blow).
Interface: (Port 1) Centronics Compatible Parallel.
(Port 2) Asynchronous Serial, EIA RS-232D, DTE.
(Port 3) ET Speaks, serial.
Website:http://www.brailler.com/brlx150.htm